Set Minimod2+ for EUROPEAN TV Channels
( DVB-T 8-Mhz)
All these settings can be done also via Computer Web Interface.
In this guide we show the quick direct setting via the color display without the need of a computer.
IMPORTANT:
If you want to combine MULTIPLE MINIMOD2+
over the same coaxial cable
Please Make Sure
Each Minimod2+ unit
IS SET WITH DIFFERENT PARAMETERS
so the combined Minimod2+ units
will not Jam Each Other!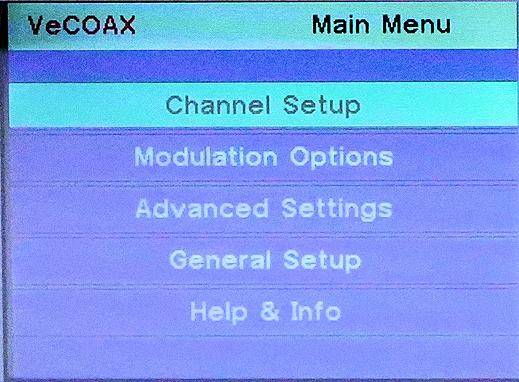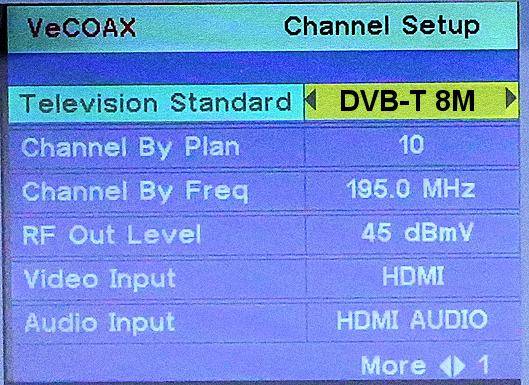 (2) From Main Menu

GO TO General Setup >
TV Standard >
set DVB-T - 8 MegaHertz mode

IMPORTANT:
TO CHANGE THE STANDARD
YOU MUST GO TO GENERAL SETUP
SUB MENU
( SEE PREVIOUS PICTURE LIST )

YOU CANNOT CHANGE THIS FROM THE CHANNEL SETUP MENU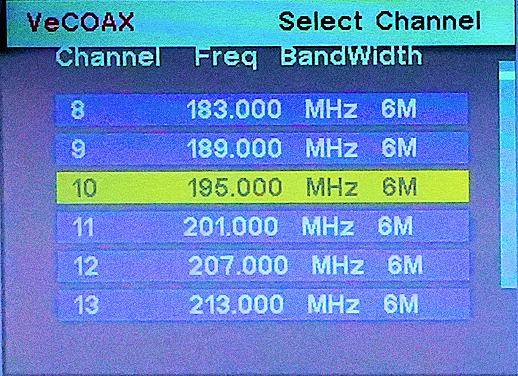 (3)From Main Menu
Channel Setup >
Channel By Plan >
select the wanted channel for this unit

IMPORTANT:
USE DIFFERENT CHANNELS ON DIFFERENT MULTIPLE UNITS TO AVOID CONFLICTS!

IMPORTANT:
IF YOU MIX WITH OTHER TV CHANNELS MAKE SURE THE CHANNEL YOU SET IS NOT ALREADY TAKEN ON YOUR TV CHANNELS LIST TO AVOID CONFLICTS!

We suggest to start from channel frequency 10 Up as lower channels frequencies might be reserved by other services or not received on some tuners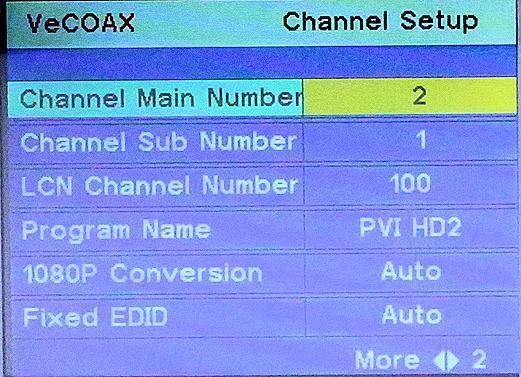 (4) From Main Menu
Channel Setup >
LCN Channel Number >
set the LCN destination # on your TV list
(your TVs will store this channel on their list in this remote control position number)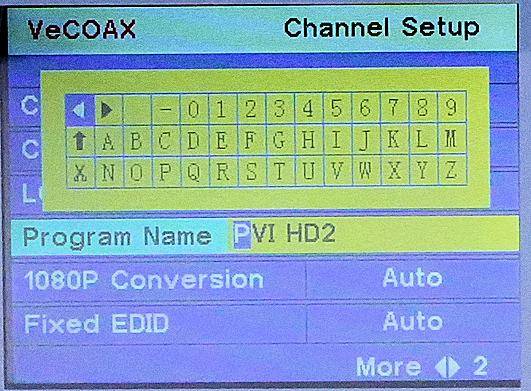 (6)From Main Menu
Channel Setup >
Program Name >
set the NAME will show on your TV

IMPORTANT:
Please Make Sure to Scan Your TVs for DIGITAL DVB-T TV Channels!
If you scan your TVs for ANALOG ONLY Channels it will not find this Digital Channel
Check your TVs manual for How To Scan Digital DVB-T Channels