VeCASTER Encoder
Tech Support Page
Is this the product you Have?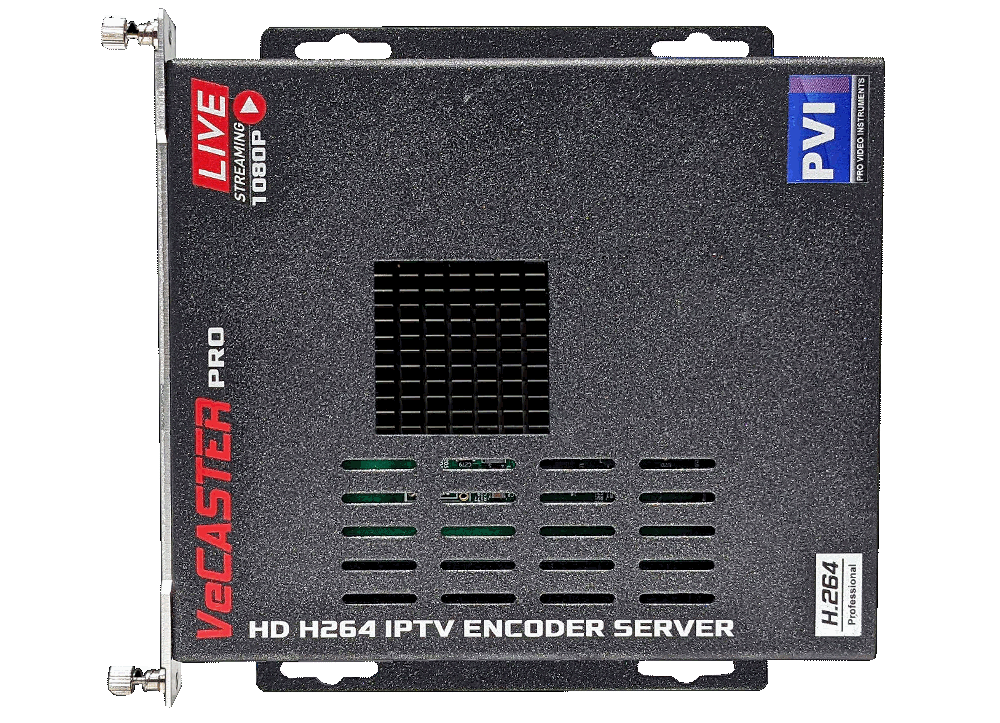 How to play on Smart TVs
or IP Set Top Boxes
1) Our IPTV encoders are compatible to any standard TV streaming format
2) Depending from which Smart APP or Set Top Box you use, please refer to its tech support manual to determine the stream format
IMPORTANT: We cannot do the tech support for third party apps or boxes
as they change their software continuously.
Please contact their tech support for
"HOW TO LIST MY ENCODERS CHANNELS ON YOUR APP or BOX"
Smart TV apps you could use to play our IPTV Encoders:
IMPORTANT
This list is just for few of the many IPTV APPS available on the market
WE DO NOT OFFER ANY TECH SUPPORT TO SETUP AND USE ANY OF THESE
we offer this list to get you started on what could be available as player app
however we cannot guarantee these app changes their policies or features
Please refer to their specs and tech support for anything related
SMARTIPTV - https://siptv.app/about/ (free/paid)
GSE - https://gsesmartiptv.com/

(free/paid)

SMARTTV - https://smarttv.club/ (free)
3) When you know what streaming format your APP or BOX requires, you can set it on our IP Encoder accordingly
4) A typical setting is HLS/M3U format.
- To ENABLE THIS FORMAT please follow our instruction manual to login with your computer browser
- On our MAIN STREAM Encoder setting page > ENABLE > HLS URL: /0.M3U8 mode
- Click ENABLE from the dropdown tab
5) How TO CREATE an M3U8 channel list file to load onto your TV APP or IP SET TOP BOX
- Most of the TV APPS or SET TOP BOX requires an M3U8 CHANNEL LIST FILE to display in their list the channels
- Every APP or BOX might use a different syntax, so please refer to the APP or BOX technical manual or contact their tech support
- On our encoder STATUS PAGE you can find the ACTUAL M3U8 URL for this encoder stream, so you can copy it and paste it as needed to the TV APP or SET TOP BOX following their user manual
6) A typical M3U8 FILE looks like this

#EXTM3U
#EXTINF:0, CHANNEL 1
http://DEVICE IP ADDRESS/0.m3u8
#EXTINF:0, CHANNEL 2
http://DEVICE IP ADDRESS/0.m3u8
#EXTINF:0, CHANNEL 3
http://DEVICE IP ADDRESS/0.m3u8

7) Explanation

#EXTM3U (ALL-NEW CHANNEL FILES MUST START WITH THIS STRING)

#EXTINF:0, CHANNEL NAME (ENTER the name YOU WISH TO DESIGNATE the channel with)
http://YOUR IP ADDRESS/0.m3u8(FIND BY IDENTIFYING HLS URL IN MAINSTREAM STATUS MENU)
8) Complete example of an M3U8 channel list file, where each line includes the ENCODER CHANNEL NAME and the ENCODER IP LINK to ITS 0,m3u8 stream
#EXTM3U
#EXTINF:0,HD1
http://192.168.1.168/0.m3u8
#EXTINF:0,HD2
http://192.168.1.169/0.m3u8
#EXTINF:0,HD3
http://192.168.1.170/0.m3u8
No additional documentation is found
Contact us for any additional information
We respond within 24Hrs on regular business working days