VeCOAX BLADE
Tech Support Page
Is this the product you Have?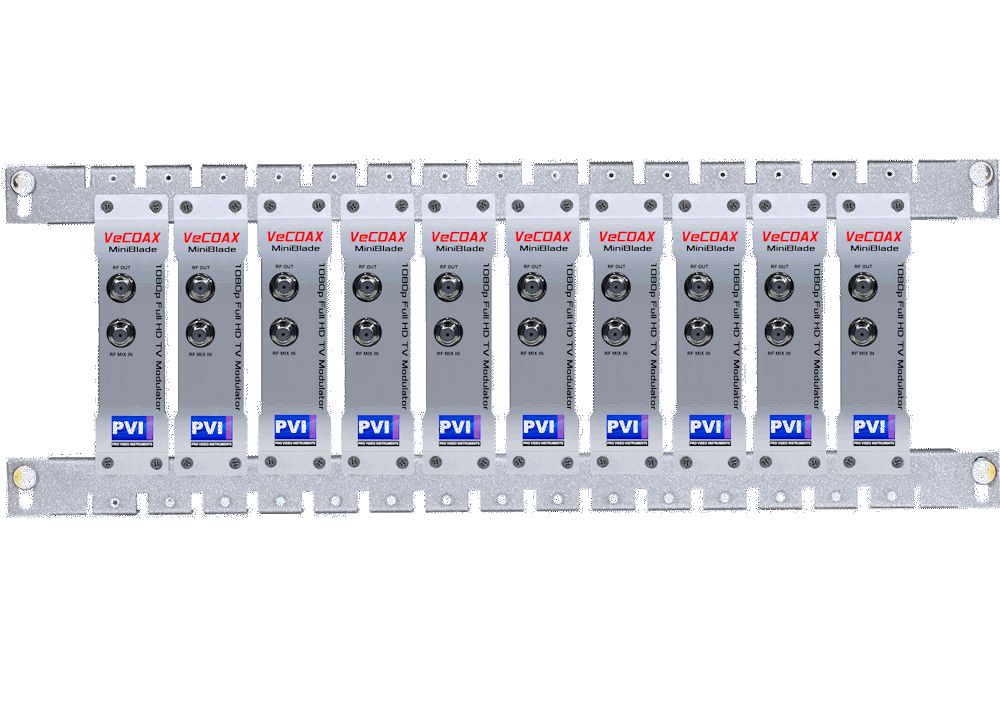 VeCOAX BLADE Instruction Manual Download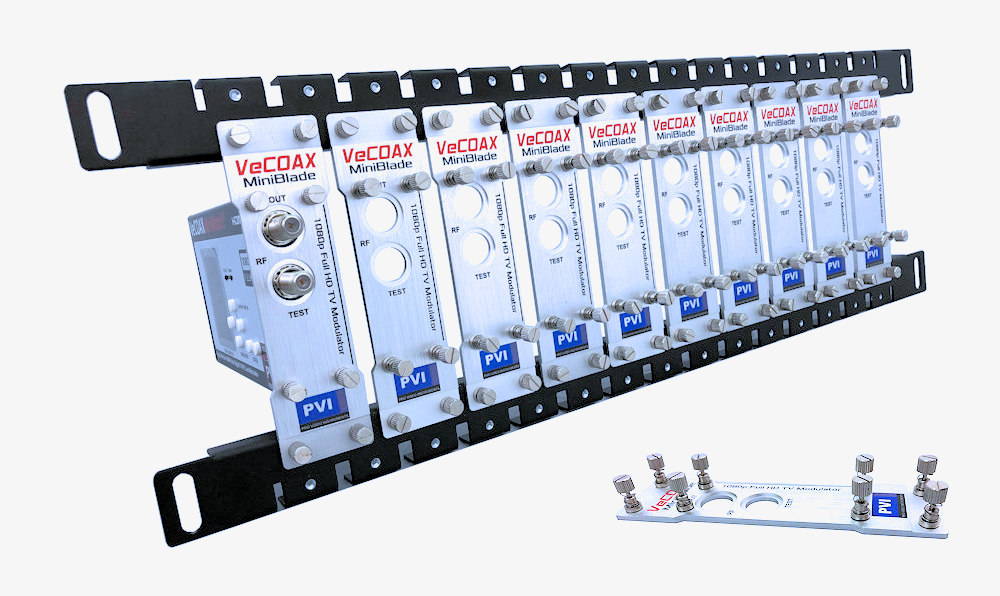 Install the Face Plates on your Minimods 2+
Use the 4 push-coil inner screws on each mini blade panel to screw the panel on the RF CONNECTORS SIDE of your Minimod 2+.
Screw ONE Minimod 2+ on the rack bars as on the above picture in order to make the RACK BARS SPACING MEASURE.
Install the Rack Bars on your Rack System
SETUP EACH Minimod 2+ one by one to its own DIFFERENT CHANNEL as per the MULTIPLE UNITS QUICK INSTALLATION here below
IF you want to control the Minimod 2+ via computer, remember to set a different IP address on each unit you will point at with the web browser later to Remote Access your system
After all Minimod 2+ are set, install them on the rack bars as needed, then connect the HDMI Inputs
To combine the RF OUTPUTs we suggest to use a PASSIVE COAXIAL SPLITTER similar to this one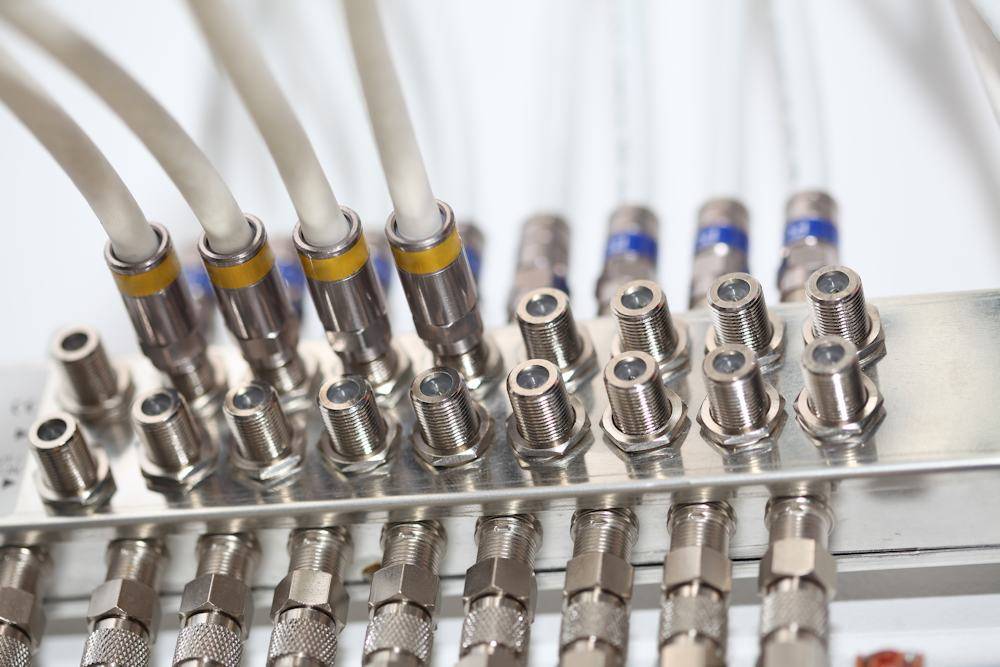 Multiple Units

Quick Installation
IF you are merging the minimods 2+
with other coaxial TV channels,
FIRST find out a FREE CHANNELs
not used on your TV channel list
so channels will not jam each other.
Look on your TV channel list
for an UNUSED channel numbers.
(A) Prepare your Minimods 2+ ON Different Channels
To merge multiple Minimod2+ over the same coaxial each must be set to a different channel so they do not Jam each other
(B) Install Your Minimods 2+ one by one
1) THIS IS MOST IMPORTANT FOR A PERFECT SETUP
At first, connect each Minimod2+ DIRECTLY on one TV with a
short piece of coaxial cable
2)

No need to connect the HDMI input
3)

Check on the Minimod Display it shows the CORRECT Channel Name & Numbers you want.
Click here for how to set the minimod2+ channel
4)

Rescan Your DIGITAL TV Channel List on your TV Menu to find the Minimod2+ Channel on your TV.
You will see a Test Pattern as this here below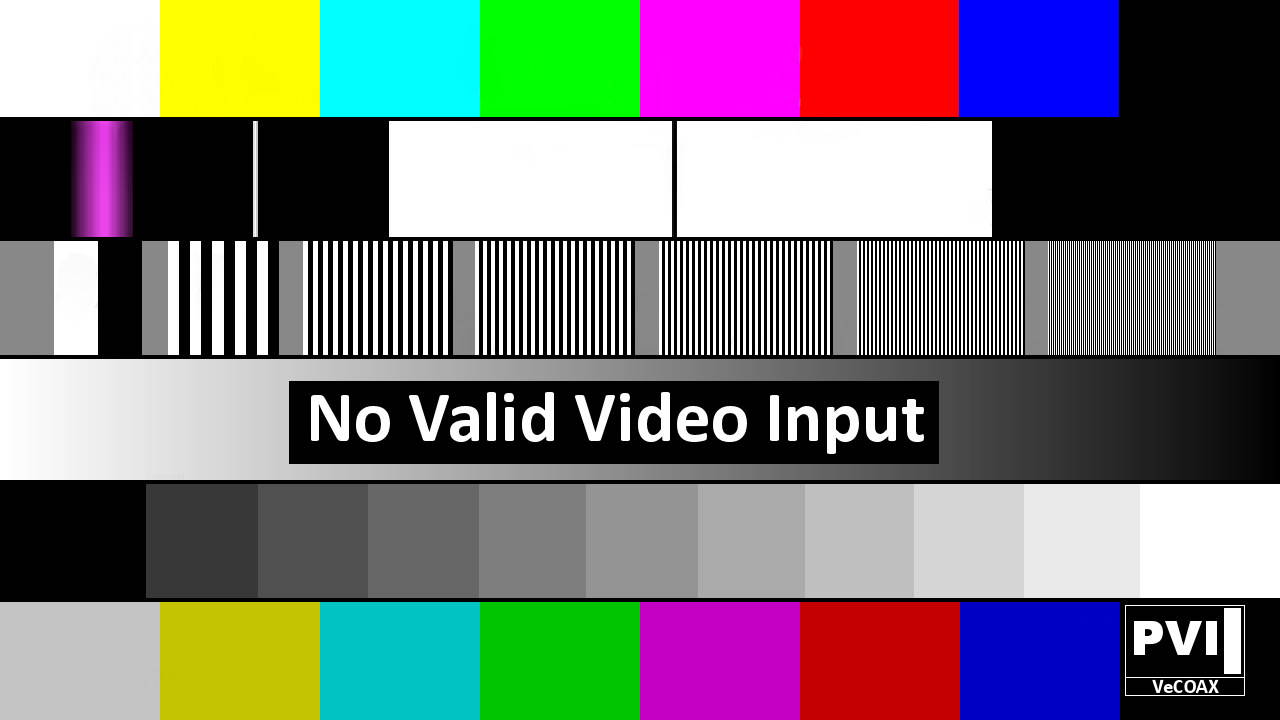 5)

If you see the Color Bars Test pattern on your TV means the Minimod2+ channel has been found and works correctly.
Click here to troubleshoot if the channel is not found


6)

Disconnect the Minimod2+ from the TV
7)

Connect the TV back to the regular coaxial cable
8)

Move the Minimod2+ to the first Coaxial junction box splitter near the TV
Connect the Minimod2+ to the splitter so the Minimod2+ channel signal will go to all your TVs via the splitter

Something like this picture...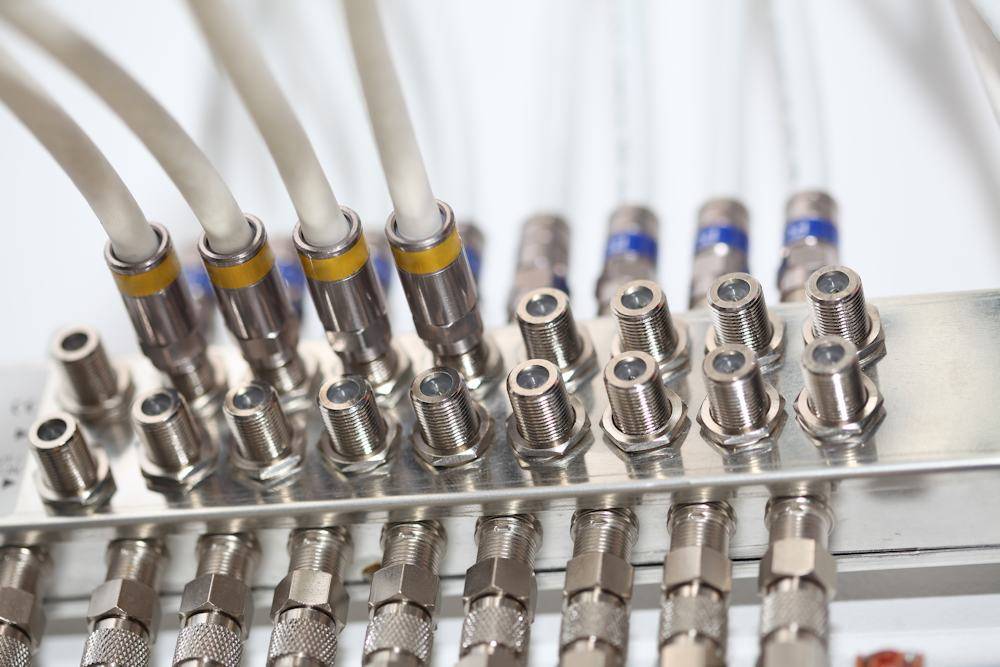 9)

Turn On the Minimod2+ connected to the coaxial splitter
10)
Check on the same TV if you can still see the Minimod2+ color bars signal.
- if yes, then Re-Scan all your other TVs to find the Minimod2+ channel, same as on the first TV
- if no

, click here to troubleshoot the coaxial splitter
11)
Disconnect the Minimod2+ from this splitter and connect to the next ones, one by one, repeating the same test from STEP #8
12)

Connect The Minimod2+ to the Main TV Coaxial Splitter, from where you serve all TVs and check again STEP #10
15) Leave this Minimod2+ connected to your coaxial cables and proceed to the next Minimod2+
Repeat from step 1 for each Minimod2+, one by one, so if there is an issue you'll be able to troubleshoot that easily
16) When all the Minimod2+ are connected, all your TVs will be able to select and display any of the Minimod2+ HDMI channels
Minimod 2 / 2+ Instruction Manuals
No additional documentation is found
Contact us for any additional information
We respond within 24Hrs on regular business working days